Click on the subjects below or scroll down the page:
| | | |
| --- | --- | --- |
| | | Stitches for Presents (SfP) was loosely formed in 1999, out of a small group of crafts-orientated people at the local canoeing club! Although the original meeting was disbanded again quite soon, the idea lived on and turned into the postal group it has been ever since. At the time of writing, summer 2003, our membership stands at over 70 in all parts of the UK and even a few members abroad. Please note that we are not in ourselves a registered charity, nor an official club, but simply a group of people with a common goal: to use our skills to make a difference, by crafting for good causes. |
Our activities in the past have included Christmas presents for disabled children, orphans in Romania, children who had to spend Christmas in hospital and residents of homes for the elderly; as well as donations to FARA (the Faure Alderson Romanian Appeal), Dogs for the Blind and the CAT group (for special needs children). Since 2002, we have been permanently sponsoring a child in Romania. (More about Domnica can be found by clicking below.) We also give random donations to a number of charities, mainly of the small local type that does not receive much publicity and government funding.

To see some projects we've been involved with, click here

For a list of our current connections, click here
Anybody who can make handcrafted goods can become a member. Our current membership list ranges from age 10 to age 86, and is not exclusively female either! Although originally a needlecraft group we do now welcome all crafters and the products we make include (again, at time of writing) items stitched in cross stitch, Hardanger, Blackwork and freestyle; sewn fragrant sachets, cushion covers, soft toys, peg bags etc; crochet doilies and blankets; baby knits and knitted toys; a wide variety of greeting cards; flower pot people and potpourri hats.

Membership is entirely free and no minimum activity is necessary, althouigh we do need to receive at least a bi-monthly contact from members. We provide a newsletter every two months for our members to keep them updated about current activities and other important news.

If you love crafting and would be interested in joining our group, please feel free to ask for membership details.
Like with every kind of charity work, donations help to keep us going. We generally accept donations of all kinds of materials, so if you have any of the following that have been sitting around unused for too long already, we would much appreciate your donation: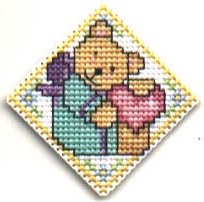 threads, wool, stitching fabrics or stitch kits (unfinished projects and "leftovers" welcome)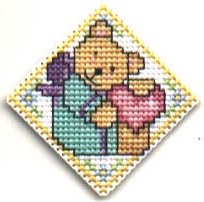 wadding and stuffing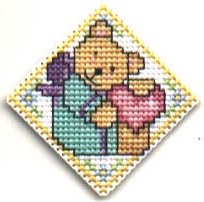 haberdashery items like buttons, ribbons and laces etc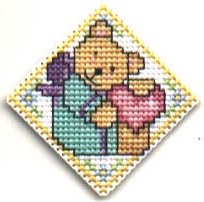 card blanks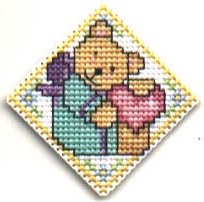 pretty papers and other crafts items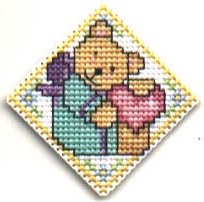 little soaps, potpourris, dried lavender and other fragrant fillings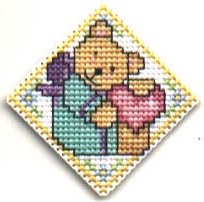 blank envelopes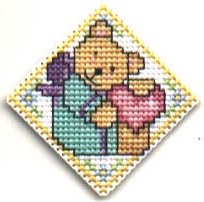 wrapping materials and adhesives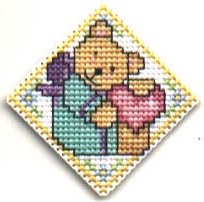 sticky labels (part sheets welcome)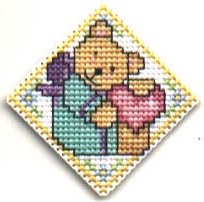 frames, framing materials, mounting board
If you think you have something that might be useful to us, please feel free to ask for donation details.
If you would like to print out a poster to place in your local needlecrafts shop or club, please click here (Not done yet!)
You can also support our activities through buying our 100% handmade goods. The easiest way is by booking a "Card and Gifts Party" at your home, clubhouse or venue of your choice. There are usually in excess of 500 cards and a good deal of small gift items available for you to choose from. There may be a distance limitation, but please do enquire.
If you would be interested in a Card and Gifts Party, please feel free to ask for details or a booking date. Click here.
Have you got a kit that you like but are unable to complete? Or- have you seen a wedding or birth sampler but are not a stitcher yourself or haven't the time? Why not consider SfP? We take commission work in cross stitch of any size and level of ability, to complete or to finish your started projects, and all profits go as usual to one of our charities. Contact us for prices and details by clicking here.
To visit our Picture Gallery, click here